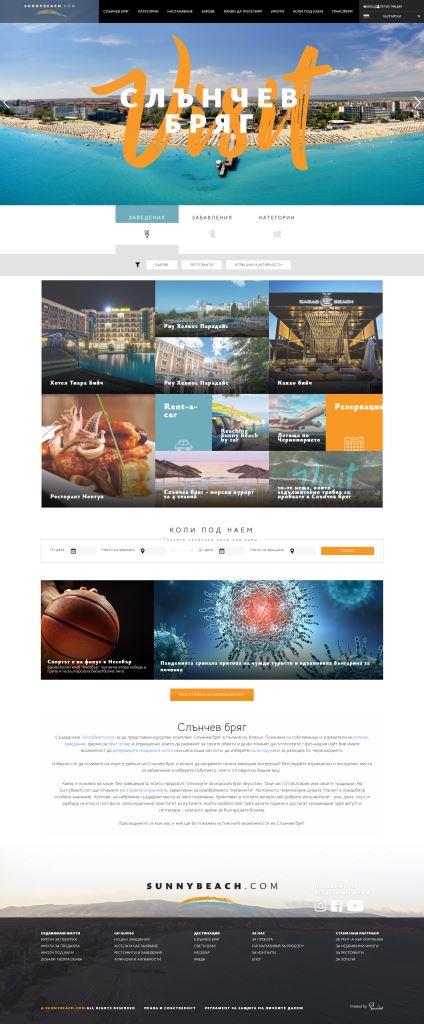 Tourism in Bulgaria will be restored and developed through the
application of innovative methods and approaches
in offering services. We are proud to introduce the
SunnyBeach.com platform
.
Travel places,
hotels
and
restaurants
were among the first sites to appear on the
Internet
more than 20 years ago. Initially, they were presented through single
pages of portals and concentrators
. Then the braver ones wanted to have their
own websites
.
The first attempts in
online reservations
appeared: first in the form of an
inquiry
, then by checking availability. Today, most
hotels
have websites that are web-based software for complete management.
Food and Drinks: restaurants,
clubs and bars
are a slightly more brave group in this aspec. They are more dynamic and avant-garde, often changing their appearance, audience and focus. For them, the sites are rather representative. Attracting customers is done more through social networks. In Bulgaria, the main audience of the restaurants is on Facebook. On Instagram are the younger ones: around and under 30 years old. The children's group has also permanently populated Instagram and TikTok. These very young users of the network are not yet of interest to restaurants. The owners do not forget that these are future customers, and strive to appear there as well.
The approach we described in a time of recession is called "single rescue." In recent days, a group of professionals with experience in various fields of tourism have announced their intention to create a platform that would unite the widest possible range of services for tourists. This is SunnyBeach.com - a web-based system through which everyone can organize their own vacation.
Owners of hotels and restaurants in
Sunny Beach
,
Nessebar
,
Saint Vlas
and Elenite are already actively using it. Car rental and transfer companies connect through various methods in the platform - manually or automatically enter information about available free cars. Restaurants and clubs announce their programs and attract customers online.
After the successful launch, the platform is expected to expand first to the South, then throughout Bulgaria.